RATES AND RESERVATIONS
All trips are Private. One great price for the whole boat - get all the lines to yourself!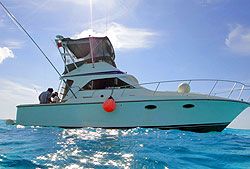 FULL-SIZE
30' - 34' Cabin Cruiser with Head
6 Passengers Max. Cozumel Only: Price for up to 4 people. Click here for prices for extra pax (up to 6) on the left side.
Marine Park Permit for Snorkeling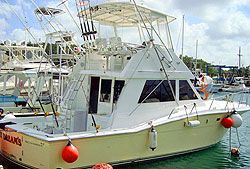 LUXURY
35' - 42' Deluxe Sportfisher
8 Passengers Max.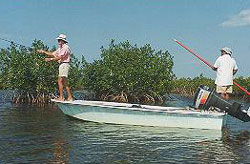 FLY FISHING / SPINNING TACKLE
Mexican Panga Boat
3 Passengers Max.*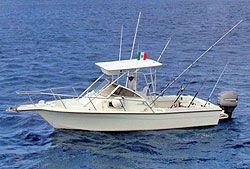 ECONOMY
23' - 29' Cabin Cruiser with Head
4 Passengers Max.
No Marine Park Permit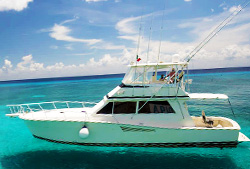 SUPER LUXURY
53' - 56' Sportfisher with A/C
12 Passengers Max.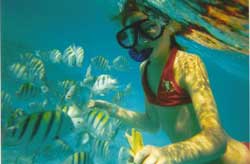 SNORKELING, BEACH, & FUN DAYS
Private Snorkeling Boat with Head
14 Passengers Max*
ALL RESERVATIONS REQUIRE ONLY A 25% to 30% DEPOSIT
VIA MAJOR CREDIT CARD OR PAYPAL.









The remainder is paid in cash on the day of the trip.
All credit cards are processed safely in the USA (no foreign transaction fees!)
AVAILABILITY

SHARED TRIPS

You must have advance reservations to book a charter with us.
Our boats will be fully booked well before you arrive in Mexico. However, if you are more than two weeks before you leave for Mexico, you can book with confidence. We should have no problem getting you on the water on the day you request. Within 24 hours of receipt of your reservation and deposit, we'll issue you a voucher via e-mail with contact info & directions.

For the satisfaction of all our customers, we do not offer shared trips.
Our private charters will ensure you have the best possible experience on the water with us, which is what you have a right to expect. You are always welcome to meet up with other people at your hotel, on the internet, or on your cruise ship, however, to split the cost with you. Just let us know how many will be coming so we are sure to have enough supplies on board.

MARINE PARK PERMIT? WHAT'S THAT?

This only matters to you if you will be snorkeling in Cozumel.
If you will be only fishing (not snorkeling), or if you'll be snorkeling in Playa del Carmen or the Riviera Maya then this makes no difference to you. However, if you plan to snorkel in Cozumel, then you want to consider this. The best snorkeling is inside of Cozumel's protected marine park. Only a few boats in Cozumel have the necessary permits to enter the marine park for snorkeling. The government limits permits issued so as to help reduce boat traffic and protect the reefs. Our economy boats do not have these permits, but our full size boats do. So, although there is still good snorkeling outside the marine park, the best reefs are all found inside the protected marine park. This is something you'll want to consider when selecting the right boat for you. Again, if you will only be fishing and not snorkeling, or if you plan to select "Playa del Carmen", then you don't need to worry about the park permit.
Return to Top
Don't see the option you're looking for? We do customized itineraries all the time - just ask us.