COZUMEL SNORKELING TOURS
Our Cozumel snorkeling tours in the Marine Park are on a private charter basis. No crowds, just your group for a relaxing exploration of the underwater wonderland. Your English-speaking guide will provide you with instruction if needed. Our snorkeling boats accommodate up to 14 guests, but we can also take larger groups. Additional guides provided for each 6 snorkelers.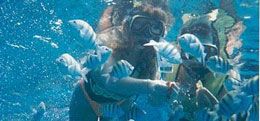 During your day, you can snorkel to your heart's content on the most beautiful reefs in Cozumel, visit one of Cozumel's great beaches, where you can have lunch at a beach restaurant, use the beach club facilities such as lounge chairs, cocktail bars, and have access to all the beach activities such as waverunners or parasailing.
Average Visibility: 100 - 200 feet.
Water Temperatures: 75°F - 85°F

You set the Departure Time! - Book Now
4 Hours
6 Hours
8 Hours
$300.00
$340.00
$375.00

INCLUDES: Snorkeling Equipment, Beer, Snacks, Soft Drinks, Water, Lunch (on full day charters), Guide.

RESERVE NOW
*All prices are per boat, good for up to 6 people.
Add the following per person for 7th person and up.
4 Hours: $30.00 6 Hours: $35.00 8 Hours: $40.00