COZUMEL TOURS
For those of you staying in a hotel on Cozumel, or having a long port of call, there are even more options of things to do and see. You can take a ferry over to the mainland of Cancun, and see some of the wonders of the world - Mayan Ruins, Ecological Parks, and much more. You can also go horseback riding, take a motor scooter or Jeep tour, and more. SEE TOURS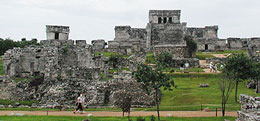 Private Tours - On your schedule. Trips available to Xcaret, Xel-Ha, Tulum, Chichen Itza, and Coba Mayan Ruins on the mainland.
Xel Ha - Visit a natural aquarium where you can swim with dolphins, snorkel, and more.
Xcaret - The biggest and most amazing ecological park in Mexico. Over 25 attractions.
Chichen Itza - The biggest and most impressive of the Mayan Ruins of Cancun. This is a must-see if you have the time.
Tulum Mayan Ruins - Set on a clifftop overlooking the Caribbean. Simply Beautiful.
These tours and many more are available here.
CLICK FOR COMPLETE LIST